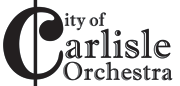 Concert Dates
March 23rd 2024
To find out where the concert is and what we will be playing, please click the button below.
More info
About
To find out who we are and what we're about please follow the link below.
Learn more
Join The Orchestra
If you are a musician in or around the Carlisle area please get in touch and see if you can get involved with the orchestra.
Learn more